Beta Glucan Capsules
60 x 400mg - Immune Support
Superior Beta Glucan 1.3/1.6-D
with Vitamin C and Zinc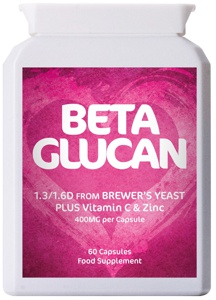 In Stock
Fast & Free UK Delivery
Beta Glucan 1.3/1.6-D
400mg
Vegan
Halal
Kosher
Added Vitamin C
Added Zinc
60 Capsules
Immune System
Cholesterol
Heart Health
Free UK Delivery
for all orders
Qty
Unit
Price
Total
Price
Buy
1 tub


(60 capsules)

£13.95
£13.95
2 tubs


(120 capsules)

£12.95


each

£25.90
3 tubs


(180 capsules)

£11.95


each

£35.85
4 tubs


(240 capsules)

£10.95


each

£43.80
Beta-glucan is a soluble fibre that becomes turns into a thick gel within your digestive tract, providing food for health-providing "good" bacteria. This allows the good bacteria to thrive and to help crowd out harmful bacterial strains. Beta Glucans are taken by many to help stimulate their immune response. By including Vitamin C and Zinc we provide a powerful immunity complex. Positive research into beta glucans has also suggested reduction in cholesterol and blood sugar.
Each capsule of Treasure Your Health Beta Glucan provides 400mg of Beta Glucans 1.3/1.6D, derived from brewers yeast. Our beta-glucan is of the form 1.3/1.6-D, a highly branched form which is more bioactive than less branched forms of beta-glucan. Each capsule also contains 50% of the NRV (Nutritional Reference Value) for Vitamin C and Zinc. Therefore 2 capsules daily gives 800mg of Beta Glucans plus the fully daily recommended amount of Vitamin C and Zinc vital to supporting the healthy functioning of your immune system.
Each tub of Treasure Your Health Beta Glucan contains 60 capsules, one month supply at the recommended dose of 2 capsules per day.
Treasure Your Health Beta Glucans is an allergen-free formulation and is suitable for vegans, vegetarians and those on halal or kosher diets.
Form:
Capsule
Active Ingredients:
1 capsule provides:
Beta Glucan 1.3/1.6-D - 400mg
Vitamin C - 40mg (50% NRV)
Zinc - 5mg (50% NRV)
Quantity:
60 capsules per tub
Recommended Use:
1 or 2 capsules per day,
best taken on an empty stomach
Best Before Date:
End of May 2023
Suitable For:
Vegans, vegetarians, halal, kosher
Traditional Use:
Immunity, Cholesterol, Liver Health
Other Features:
Allergen-free formulation
Sourced from Brewers Yeast
Manufactured in the UK to GMP standards
Full Ingredients:
Beta Glucan Complex
Vitamin C (as Ascorbic Acid)
Zinc Gluconate
Natural Rice Extract
Natural Rice Concentrate
HPMC Capsule Shell (size 00)
TrustPilot is the world-leading independent review website that collects reviews from customers and gives a business a rating out of 5. You can click below to view all of our TrustPilot reviews.
What foods contain Beta Glucans ?
Beta glucans are a type of indigestible polysaccharide found mainly in cell walls. They are found in oats, barley, yeast, bacteria, algae and medicinal mushrooms (such as shiitake and maitake).
Please take note of the following:
Do not exceed the recommended amount.
Keep out of the reach of children.
Consult your medical practitioner before taking this or any other food supplement if you are pregnant, breast-feeding or on medication.
This is a food supplement and should not be used as a substitute for a varied diet.
Not suitable for people who are taking medicines that suppress the immune system, as beta glucan boosts the immune system.

In general, people with illness caused by overactive immune response, such as rheumatoid arthritis, IBS, asthma, lupus, MS, should consult their medical practitioner before commencing the use of Beta Glucan supplements.