Flexwize Liquid Glucosamine for Dogs and Cats
Helping Maintain Healthy Joints
Glucosamine HCl, Glucosamine Sulphate, Chondroitin
MSM, Yucca Extract, Manganese, Bromelain
Omega-3, Omega-6, Vitamins A, C and E
From 11% to 29% Off RRP + Free UK Delivery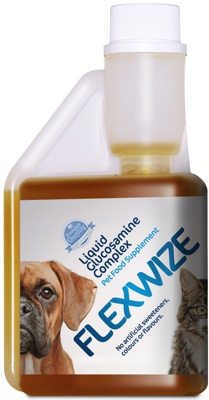 275ml bottle
for larger dogs
or for multiple pets
In Stock
Free UK Delivery
for Dogs and Cats
275ml
Glucosamine HCl
Glucosamine Sulphate
Chondroitin
MSM
Yucca Extract
Manganese
Bromelain
Omega-3
Omega-6
Vitamins A, C and E
Helps to Maintain Healthy Joints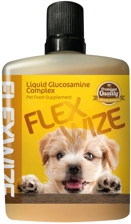 60ml bottle
for smaller dogs
and for cats
Buy Flexwize for Pets
Purchase Flexwize for Pets
RRP: 60ml bottle - £8.95
RRP: 275ml bottle - £17.95
Free UK Delivery
Qty
Unit
Price
Total
Price
Buy
1 bottle


60ml

£7.95


11% Off RRP

£7.95
1 bottle


275ml

£15.95


11% Off RRP

£15.95
2 bottles


2x 275ml

£14.95


17% Off RRP


each
£29.90
3 bottles


3x 275ml

£13.30


26% Off RRP


each
£39.90
4 bottles


4x 275ml

£12.95


28% Off RRP


each
£51.80
5 bottles


5x 275ml

£12.75


29% Off RRP


each
£63.75
Best Before Date: August 2023
UK Delivery Only
About Flexwize for Pets
Our Flexwize liquid glucosamine complex for dogs and cats has 12 active ingredients to help maintain healthy joints.
Our most important ingredient is pharmaceutical grade glucosamine, split equally between glucosamine hydrochloride (HCl) and glucosamine sulphate.
Flexwize contains 10 further active ingredients for maintaining healthy joints: Chondroitin, MSM, Yucca Extract, Manganese, Bromelain, Omega-3, Omega-6, Vitamin A, Vitamin C and Vitamin E.
Our Flexwize for Pets comes in 2 sizes, the 275ml bottle for dogs over 20Kg in weight (or for multiple pets), and the smaller 60ml bottle for dogs under 20Kg in weight and for cats.
The serving size for your pet depends upon which weight range it falls into, so you will need the approximate weight of your pet in kilograms (Kg). The serving size table below will help you calculate your daily serving size.
Pet Type
Weight
Range
Daily
Amount
Servings
per 60ml
bottle
Servings
per 275ml
bottle
Cats,
Toy Dogs
< 5Kg
1ml
(one quarter of
a teaspoon)
60
275
Large Cats,
Small Dogs,
Medium Dogs
5 - 20Kg
2ml
(one half of
a teaspoon)
30
137
Large Dogs
20 - 40Kg
3.75ml
(three quarters
of a teaspoon)
16
73
Giant Dogs
> 40Kg
7.5ml(one and a half
teaspoons)
8
36
Once opened refrigerate and use within 73 days.
Many new customers have previously given their pets glucosamine in tablet form, but compared to glucosamine tablets, liquid glucosamine is far superior, providing a higher absorption rate and higher bio-availability. And of course, as a liquid, Flexwize should be much easier to feed to your pet by simply stirring the daily recommended amount into their food.
Each UK order includes free delivery by Royal Mail 48 (2-3 working days), plus, if you a running short of your current Flexwize we offer a free upgrade to Royal Mail 24 (1-2 working days) on request - just email us here.
Ingredients
The following table shows the amount of each active ingredient in a single 7.5ml serving of Flexwize for Pets.
This is an example serving as recommended for Giant Dogs (above 40 kilograms in weight). Please find the correct serving size for you pet from the serving size table higher up the page
Ingredient
Amount
Total Glucosamine (HCl and 2KCl)
(providing base glucosamine)
1,500 mg
(1,067mg)
Glucosamine Hydrochloride (HCl)
(providing base glucosamine)
750 mg
(623mg)
Glucosamine Sulphate (2KCl)
(providing base glucosamine)
750 mg
(444mg)
Chondroitin Sulphate
50 mg
MSM
50 mg
Yucca Extract (4:1)
5 mg
Manganese
5 mg
Bromelain Enzyme Complex
60 units (gdu)
Omega-3
8 mg
Omega-6
2 mg
Vitamin A
800 iu / 240 mcg
Vitamin C
36.8 mg
Vitamin E
3 iu / 2 mg ATE
Usage
The daily amount of Flexwize you give to your pet should be worked out according to their weight in kilograms from the serving size table above.
Shake the bottle after taking it out of the fridge. Then remove the cap from the top of the bottle.
If you have bought the larger 275ml bottle then holding the bottle upright, squeeze the bottle until the Flexwize liquid moves around the pipe (around the outside of the bottle) and into the measuring reservoir at the top of the bottle. Fill the reservoir to the amount you wish to give your pet. Then pour the Flexwize out of the reservoir and onto their food. Mix well into their food.
If you have bought the smaller 60ml bottle then simply pour the Flexwize liquid onto a teaspoon and mix into their food.
If you prefer to give Flexwize to your pet using a syringe (by gently squirting Flexwize directly into their mouth) and you have not done this procedure before then please first see your vet to ensure you use the correct technique and do not harm your pet. Always thoroughly clean your syringe afterwards.
Always replace the cap to your Flexwize after use and immediately return it to the fridge.
Cautions
Keep out of the reach of children. This is a food supplement and should not be used as a substitute for a varied diet. Do not exceed the stated intake.
TrustPilot Reviews
FAQs
Q. Glucosamine Liquid or Glucosamine Tablets ?
A. The absorption rate and bio-availability of glucosamine is far higher in liquid form than in tablet form.
Q. How Long Before My Pet Feels The Benefit from Flexwize ?
A. We would expect your pet should feel the benefits from taking liquid glucosamine in the first 2 - 4 weeks.
Q. Can I Split the Daily Amount of Flexwize ?
A. You can split the recommended daily amount into two servings if you prefer or in the unlikely event that your pet gets mild stomach irritation.
Q. What if My Pet Will Not Take Their Flexwize ?
A. Of course some pets are more fussy than others. This is especially true for cats. If your pet will not eat their food when mixed with Flexwize then you should consider administering directly into their mouth using a syringe. However you must only do this if you have prior experience of using this technique. If not then please visit your vet for them to show you the correct technique to ensure you do not harm your pet (and to ensure your pet does not harm you!) and to obtain a clean syringe (which must then be thoroughly cleaned after each use).