Golden Greens
Organic Brown Rice Protein Powder 250g
80% Pure Vegan Plant Protein
Minimum 20% Off RRP + Free UK Delivery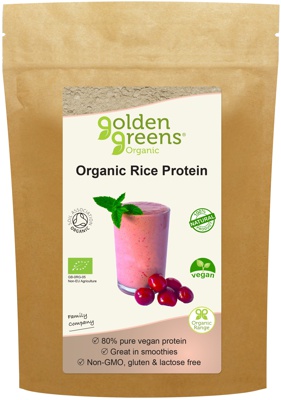 In Stock
Fast & Free UK Delivery
Vegetarian
Vegan
Organic
250g Packet
Re-sealable for Freshness
80% Plant Protein
Buy Organic Brown Rice Protein Powder
Free UK Delivery
RRP: £10.79
Qty
Unit
Price
Total
Price
Buy
1 Packet


250g

£8.63


20% Off RRP

£8.63
2 Packets


500g

£8.53
£17.06
3 Packets


750g

£8.43
£25.29
4 Packets


1,000g

£8.33
£33.32
5 Packets


1,250g

£8.23
£41.15
Current Stock Best Before Date: End of December 2022

UK Delivery Only
About our Brown Rice Protein Powder
Each packet contains 250g of 100% pure Organic Brown Rice Protein powder. Our packets are foil lined and re-sealable to keep your rice protein as fresh as the day it was packed. It is certified organic by the UK Soil Association, your guarantee of quality.
Our organic wholegrain rice protein powder contains 80% pure plant protein, contributing to the growth and maintenance of muscle mass, and making it an ideal protein source for vegans, vegetarians, people with lactose intolerance, athletes and bodybuilders
Rice protein has a mild taste and is easy to add to your diet. It mixes well with smoothies, porridge and savoury dishes such as pancakes and soups.
Key Nutrient:
Wholegrain rice protein
Form:
Powder
Quantity:
250g per packet
Features:
Certified Organic
80% Plant Protein
Foil-lined Packet
Re-sealable Packet
Recommended Use:
20g to 30g (2 - 3 tablespoons) per day
Best Before Date:
End of December 2022
FAQs
Q. Is it True That Mixing Rice and Pea Proteins is Beneficial ?
A. Whereas our wholegrain rice protein is high in cysteine and methionine but low in lysine, our
organic pea protein
is low in cysteine and methionine but high in lysine. The combination of our rice and pea proteins therefore gives a superior amino acid profile that is comparable to dairy or egg proteins.
Also the light, fluffy texture of pea protein tends to smooth out the strong, chalky flavor of rice protein.
We recommend mixing our organic wholegrain rice protein with our organic pea protein powder.