Organic Unpasteurised Noni Juice
No Heat Treatment - No Preservatives
Retains Over 95% of Raw Noni Juice Nutrients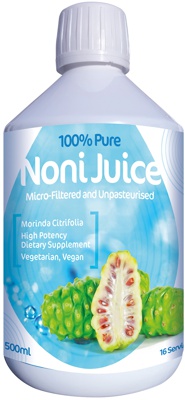 In Stock
Free UK Delivery
Organic
Noni Juice
500ml
Unpasteurised
Undiluted
Unreconstituted
Micro-filtered
No Preservatives
100% Pure
Vegan
Vegetarian
Buy Noni Juice
Free UK Delivery
on all orders
Qty
Unit
Price
Total
Price
Buy
1 bottle


(500ml)

£14.45
£14.45
2 bottles


(1 litre)

£13.95


each

£27.90
3 bottles


(1.5 litres)

£12.95


each

£38.85
6 bottles


(3 litres)

£11.95


each

£71.70
12 bottles


(6 litres)

£10.45


each

£125.40
UK Delivery Only

1 - 6 bottles sent by Royal Mail 48
12 bottles sent by ParcelForce 24hr courier
About Our Organic Unpasteurised Noni
Treasure Your Health Noni Juice is grown, processed and bottled at the high-tech facility in the Canary Islands, where it is certified organic by Production Ecologica De Canarias. This ensures the freshness of our juice as there are no transportation complications or delays in the processing from harvest to bottling.
Our noni fruit is processed using a state-of-the-art micro-filtration process to remove bacteria and sediment, thereby avoiding the need for pasteurisation. As we do not heat treat our noni juice, we are able to retain over 95% of the beneficial nutrients found in raw untreated noni juice, enabling us to offer you the very best quality organic noni available.
Treasure Your Health Noni Juice is 100% pure, unpasteurised, undiluted, unreconstituted. There are no other ingredients, no other juices, no thickeners, no preservatives, no colouring, nothing artificial! Each bottle omes with a second seal under the lid to ensure total freshness is maintained.
We recommend taking 30ml of noni juice per day (2 tablespoons of juice). Unlike most fruits, noni does not have a pleasant sweet taste. The exact taste will differ between different harvests, and even between different batches of the same harvest.
Many other manufacturers add juices, other sweeteners and additives (such as thickeners) to their Noni. This can of course hide a multitude of sins, as you cannot taste the noni.
If you cannot get used to the taste of noni after a few attempts, then simply add you own juice, such as orange juice. If the manufacturer has already added this juice then remember, (i) you are paying around £20 per litre for that other, much cheaper juice, and (ii) The taste of the noni is being masked, leaving you unable to determine anything about the quality of the noni juice.
Noni contains naturally occurring minerals, enzymes, antioxidants, vitamins, phytonutrients and bioflavanoids. It is a particularly rich source of Proxeroxine and Scopoletin.
Our Noni Juice TrustPilot Reviews
TrustPilot collects reviews from our customers and gives us a rating out of 5. Below we show the TrustPilot reviews from our noni juice customers. You can click below to view all of our TrustPilot reviews.
Specification for our Noni Juice
Nutrient:
Noni (Morinda Citrifolia)
Form:
100% Pure Juice
Sourced:
Grown, processed and bottled on-site in the Canary Islands
Organic Certification:
Production Ecologica De Canarias
Processing:
Micro-Filtration
Quantity:
500ml per bottle
Recommended Use:
30ml per day
Best Before Date:
December 9th 2022
Traditional Use:
Immune System, Arthritis, Tonic, Detox
Other Features:
Unpasteurised
A second seal under the lid to ensure freshness
No preservatives