Golden Greens
Organic Acerola Powder 50g
Source of Natural Organic Vitamin C
20% Off RRP + Fast Free Delivery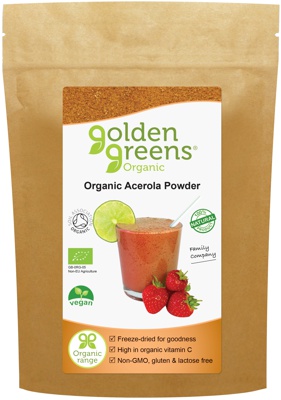 In Stock
Fast & Free UK Delivery
Vegetarian
Vegan
Organic
50g Packet
Re-sealable for Freshness
Freeze-Dried
Organic Vitamin C
Antioxidants
Buy Golden Greens Organic Acerola Powder
Free UK Delivery
RRP: £13.79
Qty
Unit
Price
Total
Price
Buy
1 packet


50g

£10.95


20% Off RRP

£10.95
2 packets


100g

£10.85
£21.70
3 packets


150g

£10.75
£32.25
4 packets


200g

£10.65
£42.60
5 packets


250g

£10.55
£52.75
Current Stock Best Before Date: Awaiting New Stock

UK Delivery Only
About Our Acerola Powder
Pure organic acerola powder from the fruit of Malpighia Emarginata, a tropical fruit-bearing shrub that produces cherry-like berries. Also known as acerola cherry, Barbados cherry, West Indian cherry and wild crepe myrtle.
Acerola berries are perhaps best known for being extremely rich in vitamin C, but also contain substantial quantities of vitamins A, B1, B2, and B3, and also carotenoids and bioflavonoids which are powerful antioxidants.
The berries of the acerola plant have a pleasant taste and have been widely used in traditional folk medicine. Traditional uses include: liver tonic, diarrhoea, dysentery, coughs, colds/flu/immunity, digestion, antimicrobial mouth wash, skin astringent, antidepressant, antifungal, athletic endurance.
As acerola berries decompose quickly we freeze-dry the berries immediately after harvesting to preserve their nutrients.
Product Specification
Key Nutrient:
Organic Acerola Berry
Form:
Powder (in a re-sealable packet to maintain freshness)
Quantity:
50g
Recommended Use:
1g to 2g (A quarter to a half a teaspoon) per day
(Mix with water, plant milk, juice or add to a smoothie)
Best Before Date:
End of October 2022
Other Ingredients:
None