Golden Greens Expert
Collagen Complex 300g
Marine Collagen - Hyaluronic Acid - Vitamin C
Minimum 20% Off RRP + Free UK Delivery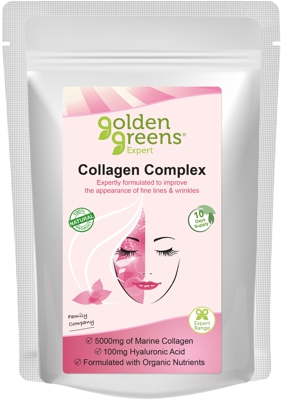 In Stock
Fast & Free UK Delivery
300g Packet
30-Day Supply
Anti-Ageing
Fine Lines and Wrinkles
Improves Skin Elasticity
Increased Skin Smoothness
Foil-Lined and Re-sealable for Freshness
Naticol Hydrolysed Marine Collagen
Hyaluronic Acid
Organic Vitamin C
Organic Lucuma Powder
Organic Blueberry Powder
Organic Acerola Powder
Buy Golden Greens Expert Collagen Complex
Free UK Delivery
RRP: £36.99
Qty
Unit
Price
Total
Price
Buy
1 packet


300g / 30 days

£29.59


20% Off RRP

£29.59
2 packets


600g / 60 days

£29.39
£58.78
3 packets


900g / 90 days

£29.19
£87.57
4 packets


1,200g / 120 days

£28.99
£115.96
5 packets


1,500g / 150 days

£28.79
£143.95
Best Before Date: End of December 2023

UK Delivery Only
About Golden Greens Expert Collagen Complex
Golden Greens Expert Collagen Complex
promotes healthy, youthful looking skin by increasing the moisture content of your skin and by improving the elasticity and smoothness of your skin. It contains the two most highly researched compounds for skin anti-ageing, collagen and hyaluronic acid.
Collagen is the most plentiful protein in your body and is a major component of connective tissue. It is found in your tendons, ligaments, and muscles, as well as providing structure for your skin. As you age your body produces less collagen, causing ageing skin and wrinkles. Not only do collagen supplements help make up the shortfall in your own production but research has shown that taking a collagen supplement stimulates your body to produce a greater amount of its own collagen. Collagen supplementation may also stimulate your own body to create further proteins such as elastin and fibrillin, essential to the structure of your skin.
Our collagen complex uses types 1 and 3 hydrolyzed collagen which promote healthy, more youthful looking skin. We significantly increase the bioavailability of our marine collagen by a process of hydrolysis, which breaks down the molecular bonds between the individual collagen strands.
Hyaluronic acid is a glycosaminoglycan, a naturally occurring compound found in the connective tissue throughout your body. It is responsible for healthy skin structure and leads to the plumpness and hydrated look of healthy young skin. Hyaluronic acid is anti-ageing, moisturising, anti-wrinkle and increases the elasticity of your skin.
So to summarise, collagen helps keep your skin smooth and firm, whilst hyaluronic acid helps keep your skin hydrated plumped and toned.
We have also added Organic Vitamin C to our collagen complex as it contributes to your body's own collagen formation.
Each packet of Golden Greens Expert Collagen Complex provides thirty 10g daily servings. Our prices start at 20% below the recommended retail price and include free delivery.
Ingredients
Golden Greens Expert Collagen Complex provides the following nutrients in each 10g daily serving (2 teaspoons).
| Ingredient | Amount | %NRV |
| --- | --- | --- |
| Hydrolysed Marine Collagen | 5000mg | - |
| Hyaluronic Acid | 100mg | - |
| Organic Vitamin C | 80mg | 100% |
Full Ingredient List: Naticol Hydrolysed Marine Collagen (derived from fish), Hyaluronic Acid, Organic Lucuma Powder, Organic Blueberry Powder, Organic Acerola Powder
Collagen Complex Directions for Use
Take 10g (2 teaspoons) per day. Add to water, fruit juice or smoothie and mix well.
Collagen Complex Cautions
Keep out of the reach of children.
This is a food supplement and should not be used as a substitute for a varied diet.
Do not exceed the stated intake.
Allergen Advice: Contains Fish