Coenzyme Q10 100mg Softgel Capsules
Superior Naturally Fermented Ubiquinone
Co Q10 in Sunflower Oil for Maximum Absorption
33% Off RRP + Free UK Delivery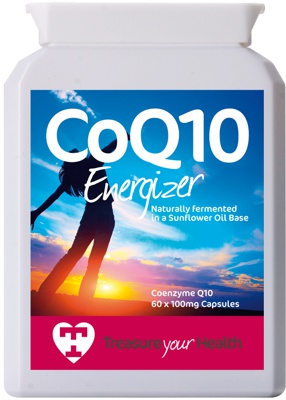 In Stock
Fast & Free Delivery
Natural Coenzyme Q10
60 x 100mg
High Absorption
Easy-to-Swallow Softgel Capsules
Heart
Energy
Oral Health
Buy CoQ10 Energizer
Free UK Delivery
RRP: £14.95
Qty
Unit
Price
Total
Price
Buy
1 tub


(60 softgels)

£9.95


33% Off RRP

£9.95
2 tubs


(120 softgels)

£9.75


each

£19.50
3 tubs


(180 softgels)

£9.50


each

£28.50
4 tubs


(240 softgels)

£9.25


each

£37.00
Best Before Date: End of November 2023
UK Delivery Only
About Our Co-enzyme Q10
Our Co Q10 is high strength naturally fermented Coenzyme Q10, providing 100mg of Co-enzyme Q10 per softgel capsule. As Co-Q10 is fat-soluble we suspend our Co Q10 in sunflower oil within a softgel capsule, which helps maximise absorption. Each tub of Treasure Your Health CoQ10 Energizer contains 60 softgel capsules.
Coenzyme Q10 is found in all cells in your body and is vital to their normal functioning. Co-q10 is stored within the mitochondria, the powerhouse of your cells. It is necessary for the creation of ATP (adenosine triphosphate), the chemical that provides the energy to drive many processes within the cells of your body. Co Q10 is found in greatest concentrations in the energy intensive cells of the heart, helping the heart to beat 100,000 times per day! Coenzyme Q10 has been shown to boost athletic performance, even in people that are not deficient in CoQ10.
Co-enzyme Q10's other important role is as an antioxidant, helping to prevent damage to the cell from oxidative stress.
Your body produces co-enzyme q10, but from the age of about twenty Co Q10 is absorbed less efficiently and its production within your body cells starts to decline. This can be overcome by supplementing your diet with a good quality natural co-enzyme q10.
CoQ10 as Ubiquinone or Ubiquinol ?
There has been much debate around whether Coenzyme Q10 is best taken in the form of Ubiquinol or Ubiquinone. Treasure Your Health sell naturally fermented Co Q10 in the form of ubiquinone for the following reasons.
Your body converts Co Q10 between ubiquinone and ubiquinol as needed.
Ubiquinol is far more expensive to produce than ubiquinone, so genuine ubiquinol will be far more expensive to you, the customer.
Ubiquinol is biochemically less stable than ubiquinone, and if not stored well, naturally converts to ubiquinone.
There is no clear-cut difference in absorption between ubiquinone and ubiquinol.
The vast majority of research into the effects of Coenzyme Q10 supplementation has been done using ubiquinone.
In conclusion, in our opinion, we believe there is a lot of marketing hype and we cannot justify selling coenzyme-q10 in ubiquinol form for a far higher price when we do not believe that our customers would be getting a better product. Therefore we sell naturally fermented co-enzyme q10 in the form of ubiquinone.
Co Q10 Summary
Key Nutrient:
Coenzyme Q10 (naturally fermented, ubiquinone)
Strength:
100mg of Coenzyme Q10
Form:
Softgel Capsules (Small, Easy-to-swallow)
Quantity:
60 capsules per tub
Recommended Use:
1 or 2 capsules per day.
Best Before Date:
End of November 2023
Traditional Use:
Cardiovascular Health, Athletic Performance
Antioxidant, Anti-ageing
Gums, Teeth
Other Features:
Superior naturally fermented coenzyme q10
In a sunflower oil base for enhanced absorption
Full Ingredients:
Sunflower Oil, Coenzyme Q10, Silicon Dioxide, Capsule Shell (Gelatin, Glycerol, Water, Black Iron Oxide, Red Iron Oxide)
TrustPilot Independent Reviews for Co-enzyme Q10
TrustPilot is the world-leading independent review website that collects reviews from customers and gives a business a rating out of 5. You can click below to view all of our TrustPilot reviews.
Cautions
Keep out of the reach of children.
This is a food supplement and should not be used as a substitute for a varied diet.
Please consult your doctor before use if you are pregnant, breastfeeding or taking medication.