Hydrolyzed Marine Collagen
120 x 400mg Capsules
Type 1 and Type 3 Marine Collagen
for Healthy, More Youthful Looking Skin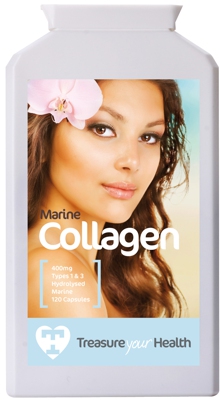 In Stock
Free UK Delivery
Marine Collagen
400mg
120 Capsules
Hydrolysed
Type I and III
Anti-Ageing
Buy Hydrolyzed Marine Collagen
Clearance Sale We are selling off the last of our old stock (Best Before End of July 2022) at the clearance price of £3.95 per tub. First come first served.
Free UK Delivery
on all orders
Qty
Unit
Price
Total
Price
Buy
1 tub


(120 capsules)

£3.95
£3.95
2 tubs


(240 capsules)

£3.95


each

£7.90
3 tubs


(360 capsules)

£3.95


each

£11.85
UK Delivery Only
About Our Hydrolyzed Marine Collagen
Treasure Your Health Marine Collagen Capsules each provide 400mg of hydrolyzed marine collagen. There are 120 capsules per tub. Take one to four capsules per night with water before you go to bed at least one hour after eating (2-3 hours after a large meal). For maximum effect take four capsules to receive 1,600mg of hydrolysed marine collagen.
Collagen is a major component of our skin. As we age our body naturally produces less collagen, leading to the appearance of dry skin, fine lines and wrinkles. Our marine collagen contains types I and III collagen, which promote skin health, improving the moisture content of skin, also increasing the elasticity and smoothness of your skin. Often found in skin creams, it has been said that taking hydrolyzed collagen capsules can "make you younger from the inside out!".
Hydrolyzed collagen, also known as collagen hydrolysate, is made using the process of hydrolysis to break down the molecular bonds between the individual collagen strands. This hugely increases the bioavailability of our collagen.
Specification
Key Nutrient:
Marine Collagen
Processing:
Hydrolysed for increased absorption.
Form:
Capsule
Quantity:
120 capsules, 400mg per capsule.
Recommended Use:
1 to 4 capsules per night, with water just before retiring for the night. Preferrably at least one hour after last eating, 2 - 3 hours if the last meal was large.
Best Before Date:
End of July 2022
Suitable For:
Pescatarians
Traditional Use:
Anti-Ageing
Other Features:
Airtight foil seal under lid
Full Ingredients:
Hydrolysed Marine Collagen
Magnesium Stearate
Vegetarian Capsule Shell (HPMC)
Cautions:
Keep out of the reach of children.
Do not exceed the stated intake.
Allergen Advice:
Contains Fish
Our TrustPilot Rating
TrustPilot collects reviews from our customers and gives us a rating out of 5. You can click below to view our TrustPilot reviews.