MultiVitamins and Minerals A-Z 100% RDA
23 Essential Vitamins and Minerals plus Beta-Carotene
180x 1-a-Day Easy-to-Swallow Caplets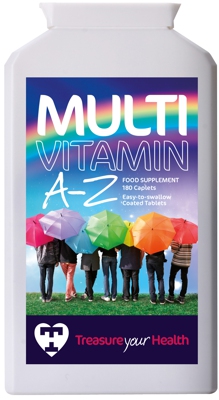 In Stock
Free UK Delivery
Multi Vitamins
Multi Minerals
100% RDA (NRV)
13 Vitamins
10 Minerals
+ Beta-Carotene
180 Coated Tablets
Easy To Swallow
One a Day
Vegan
Vegetarian
Buy Multi Vitamins and Minerals
Free UK Delivery
for all orders
Qty
Unit
Price
Total
Price
Buy
1 tub


180 x 1-a-Day

£9.95
£9.95
2 tubs


360 x 1-a-Day

£8.95
each
£17.90
RRP: £14.95 per tub
Treasure Your Health MultiVitamin and Mineral 1-a-Day Caplets provide 24 Key Nutrients in one easy-to-swallow coated tablet (caplet). Each tub contains 180 tablets, enough to last you 6 months. Our caplets are suitable for vegetarians and vegans.
As shown in the table below all nutrients are 100% of their NRV (nutritional reference value - also known as the recommended daily amount) - except for (i) Beta Carotene, which has no NRV, Calcium at 33% of NRV and Magnesium at 25% of NRV.
Taking a high quality multivitamin and mineral supplement is the easiest way to ensure you are not deficient in any of these key nutrients.
Ingredient
Amount
%RDA
Vitamin A
800mcg
100%
Thiamine
(Vitamin B1)
1.1mg
100%
Riboflavin
(Vitamin B2)
1.4mg
100%
Niacin
(Vitamin B3)
16mg
100%
Pantothenic Acid
Vitamin B5)
6mg
100%
Vitamin B6
1.4mg
100%
Biotin
50mcg
100%
Folic Acid
200mcg
100%
Vitamin B12
2.5mcg
100%
Vitamin C
(as Ascorbic Acid)
80mg
100%
Vitamin D2
5mcg
100%
Vitamin E
12mg
100%
Vitamin K1
75mcg
100%
Beta Carotene
0.400mg
-
Calcium
267mg
33%
Chromium
40mcg
100%
Copper
1mg
100%
Iodine
150mcg
100%
Iron
14mg
100%
Magnesium
93.75mg
25%
Manganese
2mg
100%
Molybdenum
50mcg
100%
Selenium
55mcg
100%
Zinc
10mg
100%
Calcium Carbonate, Microcrystalline Cellulose, Magnesium Oxide, Ascorbic Acid, Ferrous Fumarate, Vitamin E Acetate, Hydroxy Propyl Methyl Cellulose, Vitamin B3, Zinc Oxide, Magnesium Stearate, Silicon Dioxide, Vitamin A, Calcium Pantothenate, Manganese Sulphate, Caramel Colour, Sodium Selenite, Beta Carotene, Copper Sulphate, Vitamin B12, Vitamin D2, Glycerin, Vitamin B6, Vitamin K1, Vitamin B2, Chromium Picolinate, Folic Acid, Potassium Iodide, Sodium Molybdate, Carnauba Wax, Biotin
Free From:
Allergen-Free formulation.
Keep out of the reach of children.
Please consult your doctor before use if you are pregnant, breastfeeding or taking medication.
Discontinue use and consult a doctor if adverse reactions occur.
Food supplements must not be used as a substitute for a varied and balanced diet and a healthy lifestyle.
Do not exceed the stated intake.
TrustPilot collects reviews from our customers and gives us a rating out of 5. You can click below to view our TrustPilot reviews.