Golden Greens Organic Acai Berry Powder - 50g
100% Pure Acai Berry, Certified Organic
Discounts Up To 25% + Free UK Delivery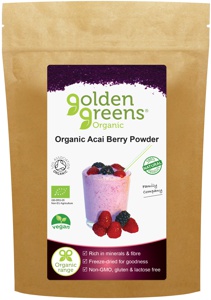 In Stock
Free UK Delivery
Suitable for Vegetarians and Vegans
Buy Organic Acai Berry powder (UK Delivery)
1 packet


1 x 50g

for
£9.96


5% Discount

2 packets


2 x 50g

for
£18.86
10% Discount
(£9.43 each)
3 packets


3 x 50g

for
£26.76
15% Discount
(£8.92 each)
4 packets


4 x 50g

for
£33.56
20% Discount
(£8.39 each)
5 packets


5 x 50g

for
£39.35
25% Discount
(£7.87 each)
Buy Organic Acai Berry powder (EU Delivery)
5 packets


5 x 50g

for
£49.95
5% Discount
(£9.99 each)
50g of 100% Pure Organic Acai Berry powder.

Recommended Daily Serving: 5g - 15g (1 to 3 teaspoons) per day.
Mix with water, juice or as a delicious smoothie.

Certified organic by the UK Soil Association, your guarantee of quality.

To

retain maximum nutrition

in our acai berry powder:
- Our acai berries are hand picked.
- Our acai berries are freeze dried within 24 hours.
It takes 1,000g of acai berries to produce each 50g packet !

Save up to 25% on the RRP of £10.49.


- 1 packet : 5% discount
- 2 packets: 10% discount
- 3 packets: 15% discount
- 4 packets: 20% discount
- 5 packets: 25% discount
plus Free UK Delivery on ALL orders
You can Mix and Match Golden Greens powders to qualify for the full 25% discount.
plus...
30-day no-quibble refund guarantee.
Suggested Smoothie Recipe
To make Organic Fruity Acai Smoothie blend together the following ingredients:
1 cup of coconut water (or water).
2 ripe bananas, peeled
2 ripe kiwis, peeled
1 green apple, core and pips removed
Half a cup of raspberries
2 teaspoons of Organic Acai Berry Powder
TrustPilot collects reviews from our customers and gives us a rating out of 5. You can click below to view our TrustPilot reviews.