Golden Greens
Organic Blackcurrant Powder 100g
Bursting with Antioxidants, Anthocyanins
Half a Kilogram of Fresh Blackcurrants to Make 1 Packet
Minimum 20% Off RRP + Free UK Delivery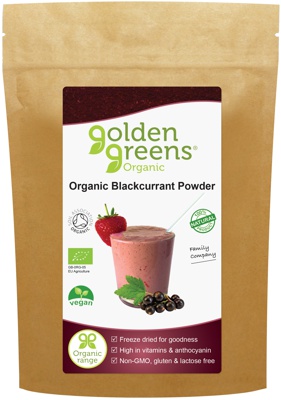 In Stock
Freeze-Dried
Fast & Free UK Delivery
Vegetarian
Vegan
Organic
100g Packet
Re-sealable Packet
Anthocyanins
49% Dietary Fibre
Vitamins
Buy Golden Greens Organic Blackcurrant Powder
Free UK Delivery
RRP: £13.89
Qty
Unit
Price
Total
Price
Buy
1 Packet


100g

£11.11


20% Off RRP

£11.11
2 Packets


200g

£11.01
£22.02
3 Packets


300g

£10.91
£32.73
4 Packets


400g

£10.81
£43.24
5 Packets


500g

£10.71
£53.55
Current Stock Best Before Date: End of April 2023

UK Delivery Only
About Our Blackcurrant Powder
Blackcurrants are bursting with anthocyanins, which are health-promoting antioxidants. It is the anthocyanins that give blackcurrants their dark purple colouring.
Golden Greens Organic Blackcurrant powder is 100% pure (it has no other ingredients) and is certified organic by the UK Soil Association, your guarantee of quality.
Our blackcurrants are freeze-dried to retain maximum freshness and nutrients. Each packet is packed with vitamins, minerals, anthocyanins and other polyphenols, and is 49% dietary fibre. And of course our blackcurrant powder will give a great fruity taste to your superfood smoothie.
FACT: It takes 25 grams of fresh organic blackcurrants to produce just a single teaspoon of organic blackcurrant powder!
Blackcurrant Powder Specification
Key Nutrient:
Organic Blackcurrants
Form:
Powder
Quantity:
100g Packets
Features:
Freeze-Dried
Re-sealable packet to maintain freshness
49% Fibre
100% Pure
Each teaspoon equivalent to 25g of blackcurrants
Recommended Use:
5g (1 teaspoon) per day
(Add to your smoothie or mix with water, plant milk or juice)
Best Before Date:
End of April 2023
Other Ingredients:
None