Golden Greens
Organic Inulin Powder 250g/500g
91% Soluble Dietary Fibre for Digestive Health
Superior Agave Derived Inulin
Minimum 20% Off RRP + Free UK Delivery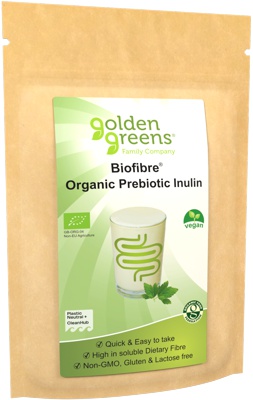 In Stock
Fast & Free UK Delivery
Superior Agave Inulin
91% Soluble Fibre
Prebiotic
250g or 500g Packets
Re-sealable for Freshness
Vegetarian
Vegan
Organic
Buy Organic Inulin Powder
Buy 250g Packets
Free UK Delivery
RRP: £14.49
Qty
Unit
Price
Total
Price
Buy
1 Packet


250g

£11.59


20% Off RRP

£11.59
2 Packets


500g

£11.49
£22.98
3 Packets


750g

£11.39
£34.17
4 Packets


1,000g

£11.19
£44.76
5 Packets


1,250g

£10.99
£54.95
Current Stock Best Before Date: End of April 2023

UK Delivery Only
Buy 500g Packets
Free UK Delivery
RRP: £24.99
Qty
Unit
Price
Total
Price
Buy
1 Packet


500g

£19.99


20% Off RRP

£19.99
2 Packets


1,000g

£19.79
£39.58
3 Packets


1,500g

£19.59
£58.77
4 Packets


2,000g

£19.39
£77.56
5 Packets


2,500g

£18.99
£94.95
Current Stock Best Before Date: End of February 2023

UK Delivery Only
About Biofibre Organic Inulin Prebiotic Powder
Golden Greens Biofibre Organic Prebiotic Inulin powder is 100% pure agave inulin (superior to chicory inulin) and comes in 250g or 500g packets. The packets are foil-lined and re-sealable to keep your inulin as fresh as the day you open it.
Golden Greens inulin is sourced from Mexican Organic Agave, which is superior to chicory inulin. Agave inulin is both higher in dietary fibre and lower in sugars compared to chicory inulin (the vast majority of inulin sold in the UK).
Golden Greens inulin is certified organic by the UK Soil Association, your guarantee of quality.
Inulin is used as a prime source of soluble dietary fibre for improving digestive health. Soluble fibre swells into a gel like substance and is not digested by your body. Inulin can help to soften your stool and significantly increased bowel movement frequency so can be used if you are suffering from constipation. If you are suffering from constipation then it is vital to increase your consumption of liquids to enable the inulin to absorb water to form the gel and to soften your stools.
Inulin is a prebiotic, feeding the good bacteria in your gut thereby encouraging them to flourish and denying opportunity for harmful bacteria to thrive. Inulin has been shown to be especially beneficial to Bifidobacteria and Lactobacilli. The good bacteria in your gut help to keep the number of harmful bacteria down and help to stimulate your immune system to prevent infection.
Inulin can also be used as a sugar substitute, for example on cereals or in home cooking, as a part of a weight loss regime.
Dr. Michael Mosley, in his BBC documentary - "The Truth About Sleep", found that taking inulin dramatically reduced the amount of time he was awake whilst in bed, down from 21% to just 8%. This followed research carried out at the University of Colorado which found that prebiotics "improve non-REM sleep, as well as REM sleep after a stressful event".
Key Nutrient:
100% Pure Organic Agave Inulin
Form:
Powder
Quantity:
250g or 500g Packets
Taste:
Mild Sweetness
Features:
Certified Organic
Superior agave sourced inulin
In a foil-lined and re-sealable packet to maintain freshness.
Recommended Use:
5g (1 teaspoons) per day.
For improved sleep take 1-2 hours before retiring.
Mix with water, plant milk, hot drinks, a smoothie,
sprinkle over food or use in baking
Best Before Date:
250g Packets - End of April 2023
500g Packets - End of February 2023
Other Ingredients:
None
Golden Greens Organic Inulin TrustPilot Reviews
FAQs
Q. How Does Agave Inulin Compare To Chicory Inulin?
A. Agave inulin is considered to a superior source of inulin, being both higher in fibre and lower in sugar levels than chicory.
The majority of inulin on the market is chicory inulin imported from China. Organic Inulin powder is sourced exclusively from Mexican Organic Agave.
Q. Can Inulin Help With Constipation?
A. Inulin is 91% soluble dietary fibre, which absorbs water and swells into a gel-like substance that passes through your digestive system adding bulk to your stools and encouraging a greater frequency of bowel movements. It is important to increase the amount of fluids you are drinking to ensure the inulin can swell as intended and soften your stools. If you do not take in sufficient fluids then dehydration could make your constipation worse.