Golden Greens
Organic Camu Camu Powder 40g/100g
Bursting with Natural Organic Vitamin C
Minimum 20% Off RRP + Free UK Delivery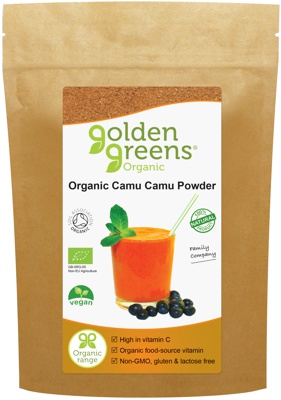 In Stock
Fast & Free UK Delivery
Vegetarian
Vegan
Organic
40g or 100g Packets
Re-sealable for Freshness
Gently Dried
Milled
Organic Vitamin C
Antioxidants
Fibre
Buy Camu Camu Powder
Free UK Delivery
RRP: £9.29
Buy 40g Packets
Qty
Unit
Price
Total
Price
Buy
1 packet


40g

£7.43


20% Off RRP

£7.43
2 packets


2 x 40g

£7.33
£14.66
3 packets


3 x 40g

£7.23
£21.69
4 packets


4 x 40g

£7.13
£28.52
5 packets


5 x 40g

£7.03
£35.15
Current Stock Best Before Date: End of August 2022

UK Delivery Only
Free UK Delivery
RRP: £19.99
Buy 100g Packets
Qty
Unit
Price
Total
Price
Buy
1 Packet


100g

£15.99


20% Off RRP

£15.99
2 Packets


2 x 100g

£15.79
£31.58
3 Packets


3 x 100g

£15.59
£46.77
4 Packets


4 x 100g

£15.39
£61.56
5 Packets


5 x 100g

£15.19
£75.95
Current Stock Best Before Date: End of August 2022

UK Delivery Only
About Camu Camu
Camu Camu (myrciaria dubia) is a tiny sour berry found in the Amazon rainforest. Our camu camu berries are gently dried before being milled into a fine powder. Our Camu Camu powder is certified organic by the UK Soil Association, your guarantee of quality. Our powder is 100% pure and contains no other ingredients.
Camu Camu is well known for having the highest Vitamin C content of any fruit or vegetable. Gram for gram Camu Camu contains around eighty times the amount of Vitamin C as a fresh orange! Our powder is a natural, organic source of Vitamin C.
Vitamin C boosts your immune system and is a powerful antioxidant that protects your cells from the damage of oxidative stress caused by free radicals (unstable oxygen molecules). The number of harmful free radical molecules is increased by modern-day living, by stress, poor nutrition and the pollution around us. When there are too few antioxidants to cope with the number of free radicals your body runs in a damaging state of "oxidative stress" which has been linked to many modern chronic illnesses.
Vitamin C is also required for your body to create collagen, a protein found in body tissues such as skin, bones, muscles, tendons, ligaments and gums. It also helps to strengthen cells and capillary walls - the smallest blood vessels in your body.
As well as Vitamin C, Camu Camu contains other potent antioxidants including anthocyanins and ellagic acid. Research indicates that the cocktail of antioxidants in camu camu has a powerful combined effect on both free radical damage and on inflammation within your body.
There are other promising studies linking camu camu with an improved microbiome, the bacteria in your gut. It seems to both promote healthy bacteria and reduce the growth of some harmful bacteria.
Key Nutrient:
Organic Camu Camu
Form:
Powder
Quantity:
40g or 100g packets
Recommended Use:
1g (quarter of a teaspoon) per day
(Mix with water, plant milk, juice or add to a smoothie)
Features:
Certified Organic
100% Pure
Foil-lined packet
Re-sealable packet
Best Before Date:
40g Packets - End of August 2022
100g Packets - End of August 2022
Other Ingredients:
None