Golden Greens
Organic Barley Grass Powder 100g/200g
from Nutritious Tender Young Shoots
Minimum 20% Off RRP + Free UK Delivery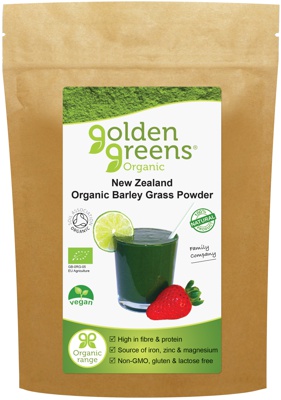 100g Packets - Out of Stock
200g Packets - In Stock
Barley Grass
Organic
Powder
100% Pure
Hand-Cut
Tender Young Shoots
New Zealand
Resealable Packet
35% Dietary Fibre
27% Protein
Iron
Zinc
Magnesium
Calcium
B2
Buy Golden Greens Organic Barley Grass Powder
Buy 200g Packets
Free UK Delivery
RRP: £15.89
Qty
Unit
Price
Total
Price
Buy
1 Packet


200g

£12.71


20% Off RRP

£12.71
2 Packets


400g

£12.51
£25.02
3 Packets


600g

£12.31
£36.93
4 Packets


800g

£12.11
£48.44
5 Packets


1,000g

£11.91
£59.55
Best Before Date: End of November 2023

UK Delivery Only
Our 100g packets below are temporarily out of stock.
You can still purchase 100g packets and we will send them
as soon as our new stock arrives.
Buy 100g Packets
Free UK Delivery
RRP: £8.79
Qty
Unit
Price
Total
Price
Buy
1 Packet


100g

£7.03


20% Off RRP

£7.03
2 Packets


200g

£6.93
£13.86
3 Packets


300g

£6.83
£20.49
4 Packets


400g

£6.73
£26.92
5 Packets


500g

£6.63
£33.15
Currently Out of Stock

UK Delivery Only
About Golden Greens Organic Barley Grass
Golden Greens Barley Grass powder is 100% pure and a superior quality barley grass powder made solely from tender young shoots grown in New Zealand. It has UK Soil Association Organic Certification, which guarantees its quality.
We only use hand-cut tender young shoots of barley grass that have not yet started making seeds as it is at this stage of their growth that they are most densely packed with nutrients.
Our barley grass powder is 35% dietary fibre, 27% protein, and contains vitamins and minerals including calcium, magnesium, Iron, Zinc and Vitamin B2.
Barley grass is a superfood supplement often used for weight management and to help support natural immunity as well as a general tonic for all-round health. Barley grass is also rich in vitamins A and C, polyphenols and flavonoids, powerful antioxidants that combat cell damage caused by free radicals.
Barley Grass provides magnesium, a mineral involved in hundreds of enzyme reactions (including energy production and blood sugar control) and is therefore vital to your health.
Our barley grass is 35% dietary fibre, both soluble and insoluble. The insoluble fibre acts as a prebiotic, feeding the beneficial bacteria in your gut. The soluble dietary fibre in Barley Grass causes your body to absorb less fat, helps to lower both cholesterol and blood sugar levels, and also helps promote healthy bacteria in your gut.
Barley grass contains all 9 essential amino acids, those that the body cannot make itself, making it a complete protein source.
Key Nutrient:
Barley Grass
Form:
Powder
Quantity:
100g per packet
Best Before Date:
100g Packets - Currently Out Of Stock
200g Packets - End of November 2023
Recommended Use:
5g (1 teaspoon) per day.
Add to water, juice or smoothie.
Features:
Organic
Superior barley grass taken only from tender young shoots
100% Pure
Grown in New Zealand
Foil-lined and re-sealable packet to retain freshness