Golden Greens
Organic Chlorella Powder or Tablets
Broken Cell Wall for Enhanced Absorption
Minimum 20% Off RRP + Free UK Delivery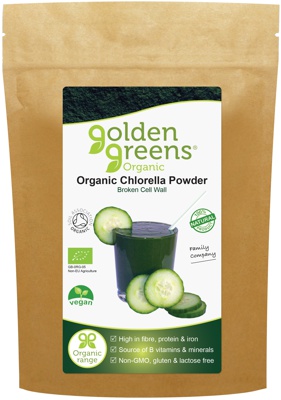 In Stock
Fast & Free UK Delivery
Vegetarian
Vegan
Organic
100g or 200g Packets
Re-sealable for Freshness
Broken Cell Wall
Enhanced Absorption
Detox
60% Protein
Complete Protein
Vitamin B12
Fibre
Iron
Antioxidants
Buy Golden Greens Organic Chlorella Powder and Tablets
Free UK Delivery
RRP: £ 9.39
Buy 100g Packets (Powder)
Qty
Unit
Price
Total
Price
Buy
1 Packet


100g

£7.51


20% Off RRP

£7.51
2 Packets


2 x 100g

£7.41
£14.82
3 Packets


3 x 100g

£7.31
£21.93
4 Packets


4 x 100g

£7.21
£28.84
5 Packets


5 x 100g

£7.11
£35.55
Current Stock Best Before Date: End of July 2023

UK Delivery Only
Free UK Delivery
RRP: £15.99
Buy 200g Packets (Powder)
Qty
Unit
Price
Total
Price
Buy
1 Packet


200g

£12.79


20% Off RRP

£12.79
2 Packets


2 x 200g

£12.59
£25.18
3 Packets


3 x 200g

£12.39
£37.17
4 Packets


4 x 200g

£12.19
£48.76
5 Packets


5 x 200g

£11.99
£59.95
Current Stock Best Before Date: End of July 2023

UK Delivery Only
Free UK Delivery
RRP: £16.99
Buy Packets of 250 x 500mg Tablets
Qty
Unit
Price
Total
Price
Buy
1 Packet


250 x 500mg

£13.59


20% Off RRP

£13.59
2 Packets


500 x 500mg

£13.39
£26.78
3 Packets


750 x 500mg

£13.19
£39.57
4 Packets


1,000 x 500mg

£12.99
£51.96
5 Packets


1,250 x 500mg

£12.79
£63.95
Current Stock Best Before Date: End of February 2023

UK Delivery Only
About our Chlorella
Chlorella is a single-celled freshwater blue-green algae. Our chlorella is grown in freshwater pools under warm sunlight in a pure, organic environment. Our chlorella is certified organic by the UK Soil Association, your guarantee of quality.
Our chlorella is dried and its cell walls broken to maximise bioavailability of its nutrients and enhance their absorption.
Chlorella offers outstanding nutrition, our chlorella powder is very high (60%) in protein, and its protein contains all essential amino acids, making it a complete protein source. Chlorella is especially high in B vitamins, being an invaluable source of Vitamin B12 for vegans. One teaspoon of chlorella powder provides 11ug of vitamin b12, over 4 times the recommended daily requirement (NRV). That same teaspoonful also provides 5.5mg of iron, around 40% of the daily NRV. It also provides fibre, a wide variety of antioxidants, plus many other vitamins and minerals.
Many people take chlorella to detoxify their body thanks to its ability to remove harmful compounds including heavy metals. It may also help stimulate the body's immune response, improve cholesterol levels, lower blood pressure and reduce inflammation.
Key Nutrient:
Organic Chlorella
Form:
Powder
Quantity:
(i) 100g of Powder,
(ii) 200g of Powder,
(iii) 250x 500mg Tablets
Recommended Use:
5g to 15g (1 - 3 teaspoons) per day
(Mix with water, juice or add to a smoothie)
Features:
Organic
Foil-lined packet
Re-sealable packet
broken-cell wall for maximum absorption
Best Before Date:
100g Powder packets - End of July 2023
200g Powder packets - End of July 2023
250 x 500mg Tablets packets - End of February 2023
Other Ingredients:
None
FAQs
Q. How Is Your Chlorella Produced ?
A. Our organic chlorella is cultivated in fresh water pools under warm golden sunlight to maintain a pure, organic environment. Once harvested the chlorella is hand-washed and gently dried before being milled into a fine powder. Milling breaks down the strong chlorella cell wall to maximise the bioavailability of its nutrients.
Organic Chlorella powder is certified organic by the UK Soil Association, your guarantee of quality.