Golden Greens
Organic Spirulina Powder/Tablets
Cultivated in Natural Freshwater Pools
Minimum 20% Off RRP + Free UK Delivery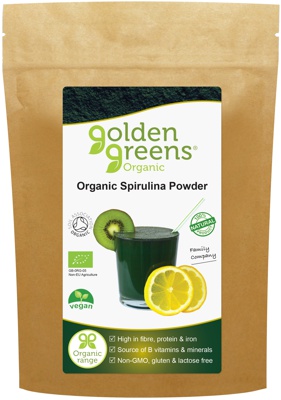 In Stock
Fast & Free UK Delivery
Vegetarian
Vegan
Organic
100g, 200g or 250 x 500mg Packets
Foil-lined and Re-sealable for Freshness
Freshwater Pools
Natural Sunlight
Gently Dried
Gently Powdered
Maximum Nutrition
Buy Golden Greens Organic Spirulina Powder
Free UK Delivery
RRP: £6.49
Buy Powder - 100g per Packet
Qty
Unit
Price
Total
Price
Buy
1 Packet


100g

£5.19


20% Off RRP

£5.19
2 Packets


200g

£5.09
£10.18
3 Packets


300g

£4.99
£14.97
4 Packets


400g

£4.89
£19.56
5 Packets


500g

£4.79
£23.95
Current Stock Best Before Date: End of October 2022

UK Delivery Only
Free UK Delivery
RRP: £11.39
Buy Powder - 200g per Packet
Qty
Unit
Price
Total
Price
Buy
1 Packet


200g

£9.11


20% Off RRP

£9.11
2 Packets


400g

£8.99
£17.98
3 Packets


600g

£8.89
£26.67
4 Packets


800g

£8.79
£35.16
5 Packets


1,000g

£8.69
£43.45
Current Stock Best Before Date: End of August 2023

UK Delivery Only
Free UK Delivery
RRP: £12.89
Buy Tablets - 250 x 500mg per Packet
Qty
Unit
Price
Total
Price
Buy
1 Packet


250 x 500mg

£10.31


20% Off RRP

£10.31
2 Packets


500 x 500mg

£10.19
£20.38
3 Packets


750 x 500mg

£10.09
£30.27
4 Packets


1,000 x 500mg

£9.99
£39.96
5 Packets


1,250 x 500mg

£9.79
£48.95
Current Stock Best Before Date: End of March 2023

UK Delivery Only
About Golden Greens Spirulina
Spirulina is a single-celled blue-green algae. We grow our Spirulina in freshwater pools under warm sunlight in a pure, organic environment. We then gently dry and powder our spirulina into a fine powder to maximise nutrition. Our spirulina is certified organic by the UK Soil Association, your guarantee of quality.
Spirulina offers outstanding nutrition. Our powdered spirulina contains 65% protein, and spirulina protein contains all essential amino acids and so is considered a complete protein source. Spirulina has a reputation as the single most nutritious food on the planet, as such it has been proposed by both NASA and the European Space Agency as a main food to be used during long-term space missions!
Spirulina provides significant amounts of B-vitamins, copper, iron, magnesium, potassium, manganese and smaller amounts of many other vitamins and minerals. It is also a source of both Omega-3 and omega-6 fatty acids.
Spirulina has high levels of antioxidants which protect your body from oxidative stress. The main antioxidant is phycocyanin, which gives spirulina its blue-green colour and is highly antioxidant and anti-inflammatory.
Promising research has carried out into the effect of Spirulina in areas as diverse as reducing LDL cholesterol and triglycerides, reducing blood pressure, aiding blood sugar control, improving muscle strength and endurance, and reducing the symptoms of allergic rhinitis.
Key Nutrient:
Organic Spirulina
Form:
Powder or Tablets
Quantity:
(i) 100g Powder Packet
(ii) 200g Powder Packet
(iii) 250 x 500mg Tablets Packet
Recommended Use:
5g to 15g (1 - 3 teaspoons) of powder per day
(Mix with water, juice or add to a smoothie)
OR 8 - 10 tablets per day
Features:
Organic
Foil-lined packet
Re-sealable packet
Best Before Date:
(i) 100g Packets - End of October 2022
(ii) 200g Packets - End of August 2023
(iii) 250 x 500mg Packets - End of March 2023
Other Ingredients:
None