Golden Greens
Organic Maca Powder 100g/200g
Peruvian Yellow Maca Root
Minimum 20% Off RRP + Free UK Delivery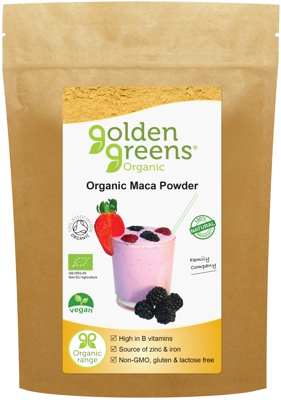 In Stock
Fast & Free UK Delivery
Organic
Maca Root
100g and 200g
Foil-lined and Re-sealable for Freshness
Libido
Fertility
Endurance
Energy
Symptoms of Menopause
Memory and Mental Focus
Vegetarian
Vegan
Buy Golden Greens Organic Maca Powder
Free UK Delivery
RRP: £ 8.19
Buy 100g Packets
Qty
Unit
Price
Total
Price
Buy
1 Packet


100g

£6.55


20% Off RRP

£6.55
2 Packets


2 x 100g

£6.45
£12.90
3 Packets


3 x 100g

£6.35
£19.05
4 Packets


4 x 100g

£6.25
£25.00
5 Packets


5 x 100g

£6.15
£30.75
Current Stock Best Before Date: End of August 2022

UK Delivery Only
Free UK Delivery
RRP: £13.89
Buy 200g Packets
Qty
Unit
Price
Total
Price
Buy
1 Packet


200g

£11.11


20% Off RRP

£11.11
2 Packets


2 x 200g

£10.99
£21.98
3 Packets


3 x 200g

£10.89
£32.67
4 Packets


4 x 200g

£10.79
£43.16
5 Packets


5 x 200g

£10.59
£52.95
Current Stock Best Before Date: End of August 2022

UK Delivery Only
About Golden Greens Maca Powder
Maca (Lepidium Meyenii) is a root vegetable native to the Andes, grown in a pure and natural organic environment. Maca root is also known as Peruvian Ginseng, and has an earthy, nutty taste. It is generally known for its ability to boost libido, mood and energy levels. Golden Greens Maca Powder is certified organic by the Soil Association, your guarantee of quality. It is ideal for adding to morning smoothies, sprinkled over yoghurt, or added to baked foods and snacks.
Traditionally, maca root been used to increase fertility and libido. Research has backed the claims of increased sex drive for both men and women taking it for at least 6 weeks. Other studies have shown both improved semen quality and increased sperm quantity and mobility in both infertile and healthy men. Maca is also claimed to improve energy and stamina.
Maca root has also been shown to relieve symptoms of menopause such as hot flashes, vaginal dryness, disrupted sleep, anxiety and depression.
Maca powder is commonly used by athletes and bodybuilders hoping to gain muscle and improve strength, energy and performance, especially in endurance events.
Finally, studies in rodents have shown an ability to improve memory and learning, though not enough research has been carried out in people.
Most research on the benefits of Maca powder have been done at daily doses of 3g - 5g (a half to a full teaspoon). The suggested daily dosage on the back of the packet advises 5g - 15g, but at Treasure Your Health we would advise you to stick to 5g (a single teaspoon) of maca root powder per day. Therefore a single 100g packet would last 20 days and a 200g packet would last 40 days.
Cautions: Pregnant or breastfeeding women should consult their doctor before taking maca, as should people with thyroid problems.
Key Nutrient:
Organic Maca
Form:
Powder
Quantity:
100g or 200g Packets
Taste:
Earthy, nutty (some say a little like caramel)
Recommended Use:
3g - 5g (just over a half to one full teaspoon) per day
NOTE the label on the packet will specify 5g - 15g per day. Most research was done with 3g - 5g and we advise you to stick to this amount.
(Add to a smoothie or to baked food, snacks or yoghurt)
Best Before Date:
100g Packets - End of August 2022
200g Packets - End of August 2022
Other Ingredients:
None
Features:
100% Pure
Certified Organic
Foiled-lined Packet
Re-sealable packet