Golden Greens
Organic Green Passion 90g/200g
Spirulina + Kelp + Chlorella +
Wheatgrass + Barley Grass + Alfalfa
Minimum 20% Off RRP + Free UK Delivery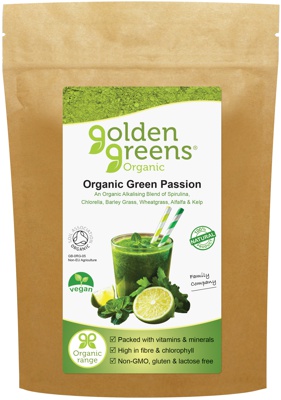 In Stock
Fast & Free UK Delivery
Vegetarian
Vegan
Organic
90g or 200g Packets
Re-sealable for Freshness
Spirulina
Chlorella
Kelp
Wheatgrass
Barley Grass
Alfalfa
Buy Golden Greens Organic Green Passion Powder
Free UK Delivery
RRP: £12.49
Buy 90g Packets
Qty
Unit
Price
Total
Price
Buy
1 Packet


90g

£9.99


20% Off RRP

£9.99
2 Packets


180g

£9.89
£19.78
3 Packets


270g

£9.79
£29.37
4 Packets


360g

£9.69
£38.76
5 Packets


450g

£9.59
£47.95
Current Stock Best Before Date: End of May 2023

UK Delivery Only
Free UK Delivery
RRP: £21.59
Buy 200g Packets
Qty
Unit
Price
Total
Price
Buy
1 Packet


200g

£17.27


20% Off RRP

£17.27
2 Packets


400g

£17.07
£34.14
3 Packets


600g

£16.87
£50.61
4 Packets


800g

£16.67
£66.68
5 Packets


1,000g

£16.47
£82.35
Current Stock Best Before Date: End of June 2023

UK Delivery Only
About Golden Greens Organic Green Passion
Golden Greens Organic Green Passion powder is the simplest way to add the 6 top green alkalising superfoods to your diet. Green Passion Powder contains Organic Spirulina, Organic Alfalfa, Organic Barley Grass, Organic Wheatgrass, Organic Kelp and Organic (Broken Cell Wall) Chlorella. Simply mix with water, juice or add to your smoothie.
Spirulina
Packed full of vitamins and minerals, Highly antioxidant and anti-inflammatory, our Spirulina is 65% protein which includes all the essential amino acids not produced naturally within our body. Spirulina is often quoted as the single most nutritious food on the planet and as such both NASA and the European Space Agency have proposed it as a main food to be used during long-term space missions.
Chlorella
Many people take chlorella to detoxify their body thanks to its ability to remove harmful compounds including heavy metals. It may also help stimulate the body's immune response, improve cholesterol levels, lower blood pressure and reduce inflammation.
Our chlorella is dried and its cell walls broken to maximise bioavailability of its nutrients and enhance their absorption.
Barley Grass
Barley grass is an excellent source fibre, polyphenols, flavonoids, and vitamins A, C, and K.
Wheatgrass
Wheatgrass is an excellent source of vitamins A, C and E, iron, magnesium, calcium and amino acids. Eight of its 17 amino acids are "essential", those your body cannot produce itself. Wheatgrass also contains chlorophyll, which has been associated with many health benefits. Wheatgrass contains several important antioxidants, including glutathione, vitamins C and vitamin E.
Kelp
Kelp is one of the best natural sources of iodine, essential to the production of hormones in the thyroid. Kelp is also high in antioxidants, including flavonoids and carotenoids. It also contains alginate, a natural fibre that research suggests may help prevent your gut from absorbing fat and thereby be useful to help you lose weight.
Alfalfa
Alfalfa contains compounds call saponins which have been shown by studies to lower cholesterol levels. Alfalfa has long been used in Ayurvedic medicine for conditions caused by inflammation and oxidative damage.
Key Nutrients:
Organic Spirulina
Organic Chlorella
Organic Barley Grass
Organic Wheatgrass
Organic Kelp
Organic Alfalfa
Form:
Powder
Quantity:
90g or 200g Packets
Recommended Use:
5g to 15g (1 - 3 teaspoons) per day
(Mix with water, juice or add to a smoothie)
Best Before Date:
90g Packets - End of May 2023
200g Packets - End of June 2023
Other Ingredients:
None
Features:
Certified Organic
Foiled-lined Packet
Re-sealable packet