Golden Greens Organic
Premium Grade Matcha Tea 50g/100g
Bursting with Chlorophyll, Caffeine and Amino Acids
Minimum 20% Off RRP + Free UK Delivery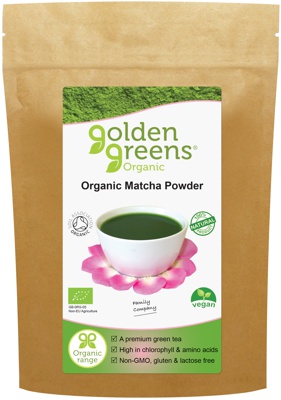 In Stock
Fast & Free UK Delivery
Premium Grade
Organic
50g and 100g Packets
Foil-lined and Re-sealable for Freshness
Sourced from China
Traditionally Grown
Chlorophyll
Caffeine
Amino Acids
Suitable for Vegetarians and Vegans
Buy Golden Greens Organic Matcha Tea Powder
Free UK Delivery
RRP: £10.39
Buy 50g Packets
Qty
Unit
Price
Total
Price
Buy
1 Packet


50g

£8.31


20% Off RRP

£8.31
2 Packets


2 x50g

£8.21
£16.42
3 Packets


3 x 50g

£8.11
£24.33
4 Packets


4 x 50g

£7.99
£31.96
5 Packets


5 x 50g

£7.89
£39.45
Current Stock Best Before Date: End of February 2023

UK Delivery Only
Free UK Delivery
RRP: £16.99
Buy 100g Packets
Qty
Unit
Price
Total
Price
Buy
1 Packet


100g

£13.59


20% Off RRP

£13.59
2 Packets


2 x 100g

£13.39
£26.78
3 Packets


3 x 100g

£13.29
£39.87
4 Packets


4 x 100g

£13.19
£52.76
5 Packets


5 x 100g

£12.99
£64.95
Current Stock Best Before Date: End of February 2023

UK Delivery Only
Suggested Use
Add 2.5g (half a teaspoon) of Matcha Tea powder to your cup, then add between 30ml and 120ml of hot water (not boiling) and whisk. If you have not taken matcha tea before we recommend starting with 75ml of hot water, then adjusting the amount for future cups to find your own preference. Note that our matcha powder can also be taken with cold water or added to fruit juices, smoothies or yoghurts.
About Golden Greens Premium Grade Matcha Tea
Matcha tea is taken from the same plant (Camellia Sinensis) as green tea, but is grown using traditional Japanese growing methods to give its unique taste and nutrient profile.
Matcha growers cover their plants for several weeks before harvesting their leaves. Devoid of direct sunlight the plants boost their chlorophyll production giving the leaves a vibrant green colour. Covering the leaves also boosts the amino acid content. Using the whole leaf gives a higher caffeine and antioxidant content than steeping the leaves of normal green teas.
After harvesting, the leaves are dried, the stems and veins removed, and the leaves ground very slowly into a delicate fine powder. Golden Greens Organic Matcha Tea is then packed into foil-lined and re-sealable packets to maintain freshness.
Matcha tea contains high levels of antioxidants, far higher than the steeping of normal green teas. Antioxidants found in matcha tea, such as catechins, are highly protective, reducing cell damage caused by oxidation.
Studies have also pointed to further health benefits such as liver protection and boosting brain function (attention, reaction time, and memory).
The high levels of the amino acid L-Theanine in matcha green tea helps promote non-drowsy relaxation. L-theanine also changes the way people react to caffeine, still promoting alertness but crucially helping to avoid the typical crash in energy levels that follow.
Green tea is often listed in the ingredients of supplements for heart health and weight loss.
It is important for your matcha tea to be certified organic as this assures your tea contains no traces of pesticides or other harmful chemicals.
A final cautionary note. The only grade above premium grade matcha tea is ceremonial grade matcha tea. Genuine ceremonial grade matcha tea typically costs two to three times the price of premium grade, which is itself more expensive than the lower grades of matcha tea below premium grade. For the vast majority of people the difference in taste between premium grade and ceremonial grade matcha tea would be negligible. This is why we sell premium grade rather than ceremonial grade. Nevertheless, unscrupulous sellers will label their cheap green tea as ceremonial grade matcha tea to boost sales to the unwary. Many sellers on popular selling platforms will not even know the difference between the grades, but will simply copy the keywords from the titles of other best selling teas. If the price is too good to be true, the bargain you thought you would be getting will turn out to be cheap green tea powder.
Key Nutrient:
Premium Grade Matcha Green Tea
Form:
Powder
Quantity:
50g or 100g Packets
Recommended Use:
2.5g (half a teaspoon) per cup of tea
Limit yourself to 1 - 2 cups per day
Best Before Date:
50g Packets - End of February 2023
100g Packets - End of February 2023
Other Ingredients:
None
Features:
Premium Grade
100% Pure
Certified Organic
Foiled-lined Packet
Re-sealable packet