Golden Greens Organic
Spinach Powder 200g
A Health Food Shop in a Packet
Minimum 20% Off RRP + Free UK Delivery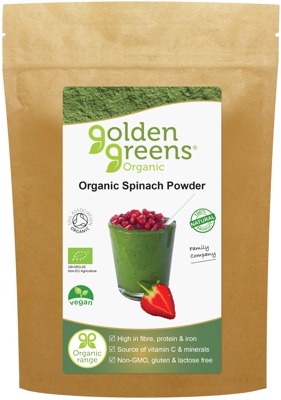 Out of Stock
Fast & Free UK Delivery
Vegetarian
Vegan
Organic
200g Packets
Foil-Lined and Re-sealable for Freshness
MultiVitamin
MultiMineral
High in Fibre
High in Protein
Lutein
Zeaxanthin
Kaempferol
Quercetin
Nitrates
Buy Golden Greens Organic Spinach Powder
Out of Stock
This part of your order will be fulfilled from the next delivery of new stock.
We will keep you informed by email.
Free UK Delivery
RRP: £9.79
Qty
Unit
Price
Total
Price
Buy
1 Packet


200g

£7.83


20% Off RRP

£7.83
2 Packets


400g

£7.73
£15.46
3 Packets


600g

£7.63
£22.89
4 Packets


800g

£7.53
£30.12
5 Packets


1,000g

£7.43
£37.15
Best Before Date: Awaiting New Stock

UK Delivery Only
About Golden Greens Organic Spinach Powder
Golden Greens Organic Spinach powder is a quick and simple way to get the many health benefits of spinach leaf. Simply mix with water, juice or add to a smoothie. Our spinach is certified organic by the Soil Association, this is your guarantee of purity and quality. Our powder is presented in a foil-lined and re-sealable packet to ensure freshness is maintained until the very last serving.
Spinach (Spinacia Oleracea) is a leafy green super-vegetable packed full of nutrients. Spinach has high levels of calcium, iron, protein and insoluble dietary fibre. Spinach leaves also contain significant amounts of Vitamin A, B-Vitamins, Vitamin C, Vitamin E, Vitamin K1, Magnesium, Manganese, Phosphorus, Potassium, Sodium and Zinc.
Spinach is also an excellent source of antioxidants and anti-inflammatories. It contains the carotenoids Lutein and Zeaxanthin, 2 plant compounds linked to healthy eyes and vision. Spinach contains the flavonoid Kaempferol, linked to a reduction in risk of chronic disease. Spinach contains high levels of nitrates linked to heart health. Spinach is one of the richest sources of the antioxidant Quercetin which helps guard against infection and inflammation.
Caution: You may wish to avoid spinach if you are at increased risk of kidney stones (due to high levels of calcium and oxalates) or are on blood thinners (due to high levels of Vitamin K1).
Key Nutrient:
Organic Spinach Leaf
Form:
Powder
Quantity:
200g
Recommended Use:
5g (1 teaspoon) per day
(Mix with water, juice or add to a smoothie)
Best Before Date:
Awaiting New Stock
Other Ingredients:
None
Features:
100% Pure
Certified Organic
Foiled-lined Packet
Re-sealable packet