Golden Greens
Organic Kale Powder 200g
Avoid the Huge Nutrient Loss when Boiling!
Minimum 20% Off RRP + Free UK Delivery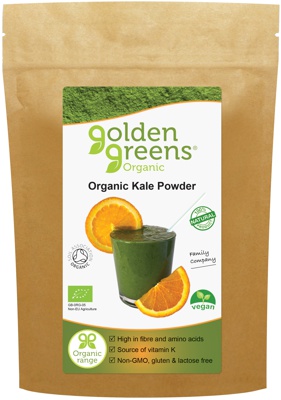 In Stock
Fast & Free UK Delivery
Vegetarian
Vegan
Organic
200g Packet
Re-sealable for Freshness
MultiVitamin
Vitamin K
Dietary Fibre
Multimineral
Lutein
Zeaxanthin
Buy Golden Greens Organic Kale Powder
Free UK Delivery
RRP: £9.79
Qty
Unit
Price
Total
Price
Buy
1 Packet


200g

£7.83


20% Off RRP

£7.83
2 Packets


2 x 200g

£7.73
£15.46
3 Packets


3 x 00g

£7.63
£22.89
4 Packets


4 x 200g

£7.53
£30.12
5 Packets


5 x 200g

£7.43
£37.15
Current Stock Best Before Date: End of December 2023

UK Delivery Only
About Golden Greens Organic Kale Powder
Kale is one of the most nutrient-dense foods on planet earth. Golden Greens Organic Kale powder gives access to this abundance of micro-nutrients, many of which are lost when kale is boiled. Kale is a rich source of Vitamin A, Vitamin B6, Vitamin C, Vitamin E, Vitamin K, Folate, Manganese, Thiamin, Riboflavin, Pantothenic acid, Iron, Calcium, Potassium and Phosphorus.
Kale is also a source of the carotenoids, lutein and zeaxanthin, helping to support eye health. Like many leafy green vegetables kale is packed with antioxidants, including beta-carotene, vitamin C, flavanoids such as quercetin and kaempferol, and polyphenols.
Our kale is certified organic by the UK Soil Association, your guarantee of quality. It comes in a foil-lined and re-sealable packet to ensure it stays as fresh as the day it was packed.
Key Nutrient:
Organic Kale
Form:
Powder
Quantity:
200g per Packet
Recommended Use:
5g (1 teaspoon) per day
(Mix with water, juice or add to a smoothie)
Best Before Date:
End of December 2023
Other Ingredients:
None
Features:
100% Pure
Certified Organic
Foiled-lined Packet
Re-sealable packet