Golden Greens
Organic Golden Turmeric Powder 100g/200g
Enhanced with 5% Ginger for Taste and
1% Black Pepper for Increased Absorption
Minimum 20% Off RRP + Free UK Delivery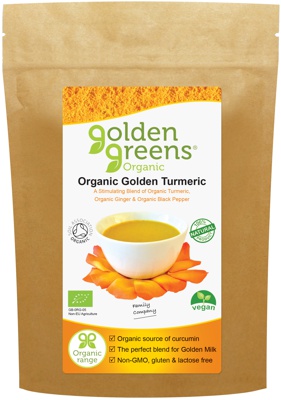 In Stock
Fast & Free UK Delivery
Vegetarian
Vegan
Organic
100g or 200g Packets
Re-sealable for Freshness
94% Organic Turmeric (curcumin)
5% Organic Ginger
1% Organic Black Pepper (Piperine)
Anti-Inflammatory
Antioxidant
Arthritis
Brian
Heart
Anti-Ageing
Buy Organic Turmeric Powder
Buy 100g Packets
Free UK Delivery
RRP: £13.89
Qty
Unit
Price
Total
Price
Buy
1 Packet


100g

£11.11


20% Off RRP

£11.11
2 Packets


2 x 100g

£10.99
£21.98
3 Packets


3 x 100g

£10.89
£32.67
4 Packets


4 x 100g

£10.79
£43.16
5 Packets


5 x 100g

£10.69
£53.45
Current Stock Best Before Date: End of October 2022

UK Delivery Only
Buy 200g Packets
Free UK Delivery
RRP: £21.69
Qty
Unit
Price
Total
Price
Buy
1 Packet


200g

£17.35


20% Off RRP

£17.35
2 Packets


2 x 200g

£17.15
£34.30
3 Packets


3 x 200g

£16.95
£50.85
4 Packets


4 x 200g

£16.75
£67.00
5 Packets


5 x 200g

£16.55
£82.75
Current Stock Best Before Date: End of June 2022

UK Delivery Only
About Golden Greens Organic Turmeric Powder
The best way to take curcumin is by using turmeric in cooking which maximises its bioavailability. Golden Greens Turmeric is enhanced with 5% organic ginger and 1% organic black pepper to maximise flavour and increase its versatility in cooking. The 1% organic black pepper contains piperine, a compound which hugely increases the absorption of curcumin.
The turmeric, ginger and black pepper we use all are certified organic by the UK Soil Association, your guarantee of quality. Our powder is provided in a foil-lined re-sealable packet to maintain freshness.
Turmeric has been used for thousands of years in India, both as a spice in cooking and as a medicinal herb. Turmeric is the spice that gives much of Indian food its rich yellow colouring. Research in recent years has identified curcuminoids as the compounds that provide turmeric with its medicinal properties, and the most important of these is curcumin.
Modern medical research is discovering that long-term low-level inflammation is implicated in many modern diseases. Curcumin is a powerful anti-inflammatory.
Curcumin is also a powerful antioxidant which can neutralise free radicals which cause oxidative damage and ageing. It also helps boost the activity of your body's own antioxidant enzymes.
Curcumin has also shown to be effective in supporting brain/mental health, heart health and in combating arthritis. In fact curcumin in turmeric has so many wide-ranging health benefits many people take it as an all-round anti-ageing supplement.
Key Nutrient:
Organic Turmeric (Curcumin)
Form:
Powder
Quantity:
100g or 200g Packets
Taste:
Enhanced with 5% ginger and 1% black pepper to maximise flavour
Recommended Use:
2.5 - 5g (half to one teaspoon) per day
(Use liberally in cooking or add to a smoothie)
Features:
Organic
Foil-lined packet
Re-sealable packet
Added 5% ginger
Added 1% black pepper (containing piperine)
Best Before Date:
100g Packets - End of October 2022
200g Packets - End of June 2022
FAQs
Q. How Should I Use Turmeric for Maximum Health Benefits?
A. Curcumin is the focus of much current research for its health benefits. It is found to be better absorbed in the presence of fat. This means using it in general cooking is preferable to taking turmeric capsules or tablets. You can also make "Golden Milk" as explained below.
Curcumin is also better absorbed in the presence of piperine which gives black pepper its spiciness. Hence we add 1% organic black pepper to our formulation.
We also add 5% pure organic ginger to give our Golden Turmeric an all round authentic Indian flavour to encourage use for flavouring in a wide variety of dishes.
Q. How do I make Golden Milk?
A. One of the simplest and best ways to take turmeric is by making Golden Milk, a delicious hot drink.
Simply add half a teaspoon of turmeric powder plus half a teaspoon of coconut oil to a cup of your favourite plant milk and whisk. Heat and whisk, but do not boil. You can add honey to sweeten if you prefer.