Golden Greens
Organic Beetroot Powder 200g
Performance, Endurance, Stamina
Minimum 20% Off RRP + Free UK Delivery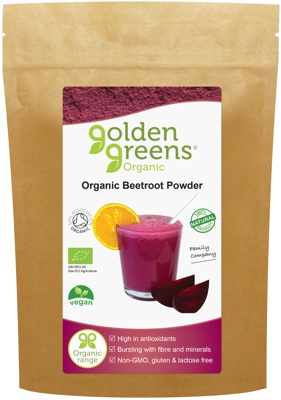 In Stock
Fast & Free UK Delivery
Vegetarian
Vegan
Organic
200g Packet
Re-sealable for Freshness
Performance
Stamina
Endurance
Buy Golden Greens Organic Beetroot Powder
Free UK Delivery
RRP: £10.79
Qty
Unit
Price
Total
Price
Buy
1 packet


200g

£8.63


20% Off RRP

£8.63
2 packets


400g

£8.53
£17.06
3 packets


600g

£8.43
£25.29
4 packets


800g

£8.33
£33.32
5 packets


1,000g

£8.23
£41.15
Current Stock Best Before Date: End of March 2023

UK Delivery Only
About Our Beetroot Powder
Golden Greens Organic Beetroot Powder is 100% pure, certified organic and has a sweet, earthy taste.
The classic deep-red of beetroot is from Betaine, a powerful antioxidant that helps to lower blood pressure and acts as an anti-inflammatory. The high levels of inorganic nitrates in beetroot work a little like aspirin to help prevent blood clots and to help protect the lining of your body's blood vessels. Beetroot was highlighted in the recent sports nutrition documentary "Game Changers", which showed its ability to relax blood vessel walls could lead to improved performance, stamina and endurance.
Beetroot is also rich in anthocyanins, as well as being a good source of fibre, iron, potassium, manganese, magnesium, vitamin C and folate (vitamin B9).
Product Specification
Key Nutrient:
Organic Beetroot
Form:
Powder (in a re-sealable packet to maintain freshness)
Quantity:
200g
Taste:
Earthy, Sweet
Recommended Use:
5g to 15g (1 - 3 teaspoons) per day
(Mix with water, plant milk, juice or add to a smoothie)
Traditional Use:
Blood pressure, circulation health, stamina, endurance, antioxidant
Best Before Date:
End of March 2023
Other Ingredients:
None