Mangosteen Extract 60 x 1000mg Capsules
Whole-Fruit - Pulp and Rind
Allergen-Free, Vegan, Halal, Kosher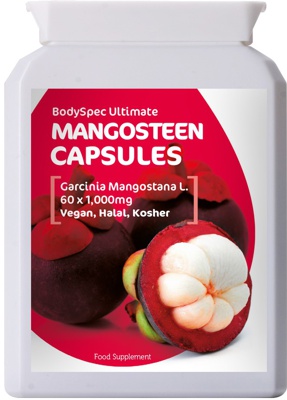 In Stock
Fast & Free UK Delivery
1,000mg
60 Capsules
Pulp AND Rind
Xanthones
Anti-Ageing
Antioxidant
Immune Health
Digestive Health
Allergen-Free Formulation
Vegan
Vegetarian
Halal
Kosher
Buy Mangosteen Extract Capsules
Free UK Delivery
on all orders
Qty
Unit
Price
Total
Price
Buy
1 tub


(60 capsules)

£7.95
£7.95
2 tubs


(120 capsules)

£7.45


each

£14.90
3 tubs


(180 capsules)

£6.95


each

£20.85
4 tubs


(240 capsules)

£6.75


each

£27.00
UK Delivery Only
About Our Mangosteen Whole-Fruit Extract Capsules
BodySpec Ultimate Mangosteen Extract Capsules each provide 250mg of 4:1 mangosteen extract, equivalent to 1,000mg of fresh whole-fruit mangosteen.
Mangosteen contains high levels of polysaccharides in the pericarp (outer rind) which help preserve the body's immune system and maintain a healthy digestion. For this reason whole-fruit formulations, such as BodySpec Ultimate, are superior to the cheaper pulp-only extracts.
Mangosteen is rich in Xanthones, powerful antioxidants which help the body fight free radicals. Some studies have shown xanthones to have anti-inflammatory, neuro-protective, anti-ageing, anti-diabetic and anti-cancer properties.
Our Mangosteen Capsules are allergen-free, and suitable for vegetarians, vegans and those on halal and kosher diets.
Specification
Key Nutrient:
Mangosteen (Garcinia Mangostana L.)
Form:
Pulp and Rind Extract in a Capsule
Equivalence:
Each capsule contains 250mg of 4:1 extract, equivalent to 1,000mg of whole-fruit (pulp and rind) mangosteen
Quantity:
60 capsules
Recommended Use:
2 capsules per day. Can be taken with or without food.
Best Before Date:
End of August 2023
Suitable For:
Vegans, Vegetarians, Halal, Kosher
Traditional Use:
Anti-Ageing, Antioxidant, Immune Health, Digestive Health
Other Features:
Allergen-free formulation
Airtight foil seal under lid
Full Ingredients:
Mangosteen Rind and Pulp Extract
Stoneground Rice Flour
Natural Rice Extract
Natural Rice Concentrate
HPMC Size 0 Capsule
Our TrustPilot Rating
TrustPilot collects reviews from our customers and gives us a rating out of 5. You can click below to view our TrustPilot reviews.