Golden Greens
Organic Energy Powder 100g/200g
Cacao + Lucuma + Hemp + Maca
Minimum 20% Off RRP + Free UK Delivery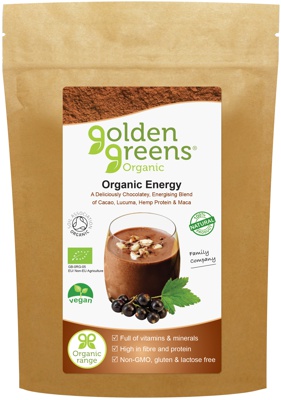 In Stock
Fast & Free UK Delivery
Vegetarian
Vegan
Organic
100g or 200g Packets
Re-sealable for Freshness
Cacao
Lucuma
Hemp
Maca
Energy
Stamina
Libido
Buy Golden Greens Organic Energy Powder
Free UK Delivery
RRP: £12.39
Buy 100g Packets
Qty
Unit
Price
Total
Price
Buy
1 Packet


100g

£9.91


20% Off RRP

£9.91
2 Packets


2 x 100g

£9.81
£19.62
3 Packets


3 x 100g

£9.71
£29.13
4 Packets


4 x 100g

£9.61
£38.44
5 Packets


5 x 100g

£9.51
£47.55
Best Before Date: End of October 2022

UK Delivery Only
Free UK Delivery
RRP: £20.99
Buy 200g Packets
Qty
Unit
Price
Total
Price
Buy
1 Packet


200g

£16.79


20% Off RRP

£16.79
2 Packets


2 x 200g

£16.59
£33.18
3 Packets


3 x 200g

£16.39
£49.17
4 Packets


4 x 200g

£16.19
£64.76
5 Packets


5 x 200g

£15.99
£79.95
Best Before Date: End of May 2023

UK Delivery Only
About our Energy Powder
Golden Greens Organic Energy powder contains a delicious chocolatey, energising blend of Organic Cacao, Organic Maca Root, Organic Lucuma and Organic Hemp Protein.
Cacao contains two natural stimulants, caffeine and theobromine. It also provides a huge quantity of antioxidants and a large amount of magnesium. It is also a useful source of mono-unsaturated fats, cholesterol-free saturated fats, vitamins and minerals, fibre, natural carbohydrates, and protein.
Our maca root powder can provide a boost in energy, relief from stress and can increase libido. It can add a large dose of calcium, iron, magnesium, selenium and seven essential amino acids.
Lucuma is a yellow-fleshed subtropical fruit native to the valleys of the Andes mountains. It is packed with antioxidants, B vitamins, minerals and fibre. As lucuma has such a low glycemic index it can be used as a healthy sweetener. A study has shown that lucuma extract has an anti-inflammatory effect on wound healing and skin ageing. Lucuma also boost your immune system and has natural antibiotic and antimicrobial properties.
Hemp seeds are full of beneficial Omega-6 and Omega-3 essential fatty acids with their associated anti-inflammatory properties and benefits for a healthy heart and brain. Hemp is a top source of protein as it contains all 21 amino acids - the building blocks of muscle - including the 9 essential amino acids that our body cannot produce itself.
Key Nutrients:
Organic Cacao
Organic Maca Root
Organic Lucuma
Organic Hemp Protein
Form:
Powder (in a re-sealable packet to maintain freshness)
Quantity:
100g or 200g Packets
Taste:
Chocolatey
Recommended Use:
5g to 15g (1 - 3 teaspoons) per day
(Mix with water, plant milk, juice or add to a smoothie)
Best Before Date:
100g Packets - Best Before End of October 2022
200g Packets - Best Before End of May 2023
Other Ingredients:
None